Fab View!
Blinds Cleaning
We know that your blinds are centerpieces of your home – they are carefully picked out to make a statement. But this is often the item in your home that gets overlooked when it comes to cleaning even though they trap a lot of dust. At HomeCare, our highly trained experts will determine the best (and safest) method for whatever type of fabric you may have.
We offer on-location blind cleaning services throughout Fairfield County, Westchester County, and Litchfield County.
The Blind Cleaning Experts
You may not realize it but your blinds can get quite dirty. They site in the air and collect dust through winter, spring, summer, and fall. Nowadays, more and more people throughout Connecticut even in upscale communities like Greenwich or Stamford are subject to seasonal allergies. Even if you have air conditioning, and let's face it, many homes in Connecticut still do not, your blinds are magnets for allergens and dirt, not to mention pet dander. People often search for blinds cleaning in New Canaan, Westport, or Trumbull, thinking that they need a "local" blinds cleaning company, only to realize a) that we have blinds cleaning service locations in Darien, Fairfield, and Norwalk, and b) we come to you.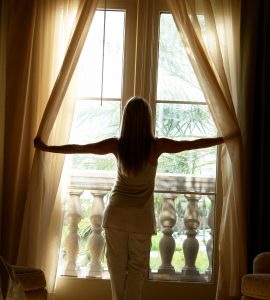 Our first step will be an estimate. We can do a walk through of your home with you, and inspect each room and the relevant drapery or window treatment or blinds cleaning issues. Second, if you're interested, we can make recommendations on furniture cleaning and/or carpet cleaning services. Many people realize that they want all their in-home fabrics cleaned at the same time, or at least on a regular basis. The benefits of an in-home cleaning is that we can get all the allergens under control, or if you're not subject to allergies, we can get the entire home looking clean and smelling great.
Consult with a Blinds Cleaning Expert
With our main offices in Darien, Fairfield, and Norwalk, we service the entire Connecticut coastal region with blinds cleaning services. We even go as far South as Scarsdale, Marmaroneck, or Port Chester with our bliuds cleaning services. We come to you, and we make it easy for you. Many homeowners realize that they want a systematic blinds cleaning schedule, and so we schedule monthly or quarterly in-home cleanings of blinds, upholstery or furniture, and of course carpets.