Fab Home!
HomeCare: Mamaroneck In-home Cleaning Services
HomeCare offers best-in-class in-home cleaning services, from carpet cleaning to draperies and upholstery cleaning, to couches or sofas. If it's in your home and covered with fiber, cloth, or leather, we can clean it. Allow HomeCare to be your "total" home cleaning solution.
Use this page to learn about our services available to the Mamaroneck, New York, community.
Mamaroneck New York: Key Offerings
Service offerings for Mamaroneck, NY, include the following:
Carpet cleaning – best-in-class carpet and rug cleaning for Mamaroneck homes.
Furniture cleaning – we can clean leather and fabric furnishings of all types, including couches and sofa cleaning in Mamaroneck as well as upholstery cleaning for Mamaroneck homeowners.
Drapery cleaning – if it hangs in your window, we're your best-in-class Mamaroneck drapery cleaning service. We clean everything from drapes to blinds to window treatments.
Now you can have the same quality expert service and attention to detail for all your home furnishings with HomeCare, which provides home and office fabric cleaning by professionally trained staff. Our experts can come to your Mamaroneck, NY, home, meet with you, and conduct an in-home assessment of everything you could possibly want cleaned and create a custom cleaning plan.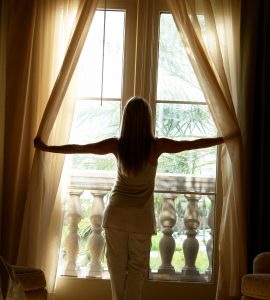 HomeCare can clean almost any soft goods in your home or office to renew and refresh your environment. We can rejuvenate your drapes, curtains, window treatments, sofas, chairs, rugs, upholstery, bedspreads, blankets and comforters leaving them cleaner, brighter and with a more healthy, dust free environment.
HomeCare provides its clients in Mamaroneck with their expert knowledge of fabrics and stain removal coupled with convenient on-site cleaning service, which is why companies like Hunter Douglas choose us to care for their clients' window treatments and beyond. We are the only dry cleaner in Fairfield County recognized by America's Best Cleaners.
Mamaroneck New York: Factoid and Key Links
Mamaroneck was officially created by an act of the New York State Legislature. 18th and 19th Century residents earned their livelihoods by farming, fishing, lumbering and milling. Manufacturing arrived with the 19th century and most was located (as it is today) in the Mamaroneck Village section. Larchmont Village and the Unincorporated Town were, and largely remain, residential.
On Christmas Day 1848 a New York and New Haven Railroad steam engine running along a single track made its first trip through Mamaroneck on its way to New York City. Despite the complaints of local farmers that the smoke was ruining their crops and the noise was frightening their livestock, forty years later there was a four-track line and a huge granite commuter station on Chatsworth Avenue. Situated on Long Island Sound, Mamaroneck became a popular summer residence for New York City's wealthy residents and a haven for those fleeing polio and influenza epidemics. The Village of Larchmont was incorporated in 1891 and the Village of Mamaroneck was incorporated as part of two towns, Rye and Mamaroneck in 1895.